A Rare Photograph of Hanna Sheehy Skeffington
We were recently visited by Roisin Fant O'Riordain and her daughter Mairead. Roisin brought a photograph of her grandfather Joseph Kirwan Bridgeman, and Hanna Sheehy Skeffington at Richmond Barracks on the 6th June 1916. They were both attending the court martial of Captain J. C. Bowen-Colthurst, Royal Irish Rifles Regiment, for the shooting of her husband, Francis Sheehy Skeffington. Joseph was a barrister and Hanna's legal advisor.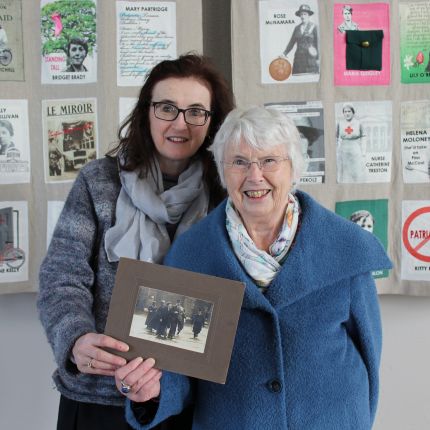 Both of Roisin's grandparents were friends with the Sheehy Skeffingtons, attending the Irish Women's Franchise League meetings. On reading through the minutes of the meetings she was slightly disappointed to read that her grandparents played very traditional roles. Her granny and her sisters provided the musical entertainment on occasion, or made supper. While her grandfather quite often proposed the vote of thanks to the speaker. On another occasion he contributed to fund a bicycle for one of the members to visit other branches around the country.
Roisin recounts:
"A family story was that his two sisters were due to be conferred by the Royal University. With the help of Hannah's husband Francis who was Registrar, they were listed for conferring, but the practice then was that only the male students were presented with their degrees in person. There was a big scandal when the two grand aunts marched up with the men.
My grandparents were staunch supporters of the Women's Suffrage Movement, and regularly attended meetings. (According to the Irish Citizen Newspaper). "